Top 5 Texan Films
We'd like to thank Texas for providing us with some of our faves…brisket, Beyoncé, and a beautiful home for our newest rooftop in Houston! We're celebrating some of Texas' rich film history with some super special screenings featuring the Lone Star State. Scroll down to see if your favorite films made the cut!
5. Rushmore (1998)
Why You Should Watch It:
This is Wes Anderson doing all the things you've come to expect from Wes Anderson – but for the first time on a feature-length scale. All of the quirks, and trademarks, and mannerisms – they are all here on display. Years later, this still might be the definitive Bill Murray performance. And that soundtrack – it's still infinitely easy on the ears and a perfect match for the film's unique combination of whimsy and heartbreak. We fell in love with this film when it was released 20-years ago and became an unabashed Wes Anderson loyalist. Looking back, the film holds up remarkably well and makes us regret absolutely nothing.

Go on academic probation on October 10th.
Tie to Texas:
Directed by Houston native, Wes Anderson, Rushmore was filmed at Anderson's alma mater, St. John's School. Not only was the film shot in Houston, but also featured lots of locals as extras and bit parts. One of them being another young Houston native, Alexis Bledel who would grow up to be Rory Gilmore on Gilmore Girls!
Best Quote:

"I was punched in the face. What's your excuse?" – Max Fischer
4. Reality Bites (1994)  
Why You Should Watch It:
To call this film influential would be a massive understatement. Reality Bites was one of the early adopters of the hipster culture, creating characters that still resonate with people all these years later. The film feels timeless because it had its finger on the pulse of a movement that was still a few years away from fully realizing itself. Now it seems oddly current. Plus it was directed by Ben Stiller. That's right, Greg Focker directed a movie! Besides, what better place to watch it than in the city it loves so much?!

Get In Your Face on October 11th.
Tie to Texas:
Based on the screenplay by former Houstonian, Helen Childress, all of the exterior shots of Reality Bites were filmed in the Montrose neighborhood of Houston! The interior shots of the apartment were filmed on an LA soundstage, but we'll give it a pass…
Best Quote:

"He's weird, he's strange, he's sloppy, he's a total nightmare for women… I can't believe I haven't slept with him yet." – Vickie
3. The Best Little Whorehouse in Texas (1982)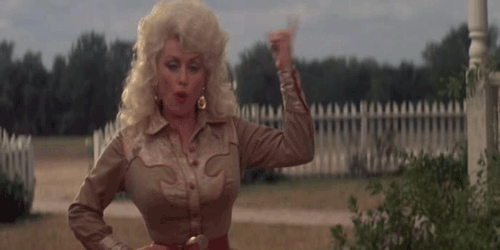 Why You Should Watch It:
With the recent passing of Burt Reynolds, it's nice to look back and examine just how broad a range he had as a performer. From the dramatic (Deliverance) to the comedic (Smokey & The Bandit), to the romantic (Starting Over) – to this delightful little musical gem that pairs him with the Queen of Country herself, Dolly Parton. Reynolds holds his own with Parton and the two create a chemistry that feels lived-in and entertaining as hell.

Party at the Chicken Ranch on October 18th.
Tie to Texas:
It's got Texas right in the title so it makes sense that this film would have some historic Texan ties! The Best Little Whorehouse was the first movie production EVER allowed to film inside the Austin, Texas Capitol building – so it's like kind of a big deal.
Best Quote:
" Don't feel sorry for me. I started out poor, and I worked my way up to outcast." – Miss Mona  
2. The Texas Chain Saw Massacre (1974)
Why You Should Watch It:
Because it's one of the greatest horror films ever made? Because it still maintains its ability to shock and terrify? Because it's a hardcore Texas film that should be celebrated as such? Because seeing it projected on a rooftop is maybe the ultimate way to see it? All these things are true, and then some. The naturalism on display in this film is what makes it so timeless. It shocks to this day because it all seems like it could actually happen. We hear about worse things on the news all the time. So maybe, one day, the chainsaw comes for YOU! Just kidding, we love you and want you safe <3

Try to survive on October 30th.
Tie to Texas:
The genre-defining film was primarily filmed at a super old school, 1900s farmhouse located near Round Rock, Texas. The house has recently gotten a major facelift and has been recently been relocated and renovated as a super cute cafe! That being said, we're still a bit freaked out by it, so we'll be taking our food to go.
Best Quote:
"My family's always been in meat." – Hitchhiker
1. Selena (1997)
Why You Should Watch It:
Measuring Selena's influence on popular music and popular culture is basically impossible, even all these years later. She was a superstar – a hero to the people who loved her, and a new discovery to those who didn't. This film, a time capsule and introduction to her legacy, still holds a raw power we all feel to this day. Jenny from the Block has never been better, and we can't think of a better celebration of Texas than bringing this film to our rooftop.
Tie to Texas:
The true story of talented Texas-born Tejano star's rise to fame was filmed all over Texas. The mall scene? Shot at Ingram Park Mall in San Antonio. The scene where Chris and Selena are walking down the pier? Shot in Aransas Pass. The scene in Mexico? …Okay surprisingly also shot in Texas at the San Antonio library. Finally, the iconic Astrodome concert scene was actually filmed at the iconic Astrodome, where 35,000 extras showed up!
Best Quote:
"Bustiquela? Es un bra!" – Abraham Quintanilla