How to Celebrate A Proper Anti-Valentine's Day
VALENTINE'S DAY. Who needs it? Well, evidently – LOTS OF PEOPLE. Luckily, for those folks, Rooftop celebrates 'romance' pretty much all year long. Our rooftops are closed in February for the holiday proper, but we certainly don't want to neglect that other group of people who are just as important as the V-Day fans – the anti-V-Day fans – the ones who hate celebrating romance in any way, shape, or form – even if they're in a relationship. So, we thought the best way to do this was to take five things commonly associated with Valentine's Day, deconstruct them, and offer up an anti-Valentine's Day alternative for all the haters out there.
We sincerely hope at least one of these films ruins your Valentine's Day.
FLOWERS – Little Shop of Horrors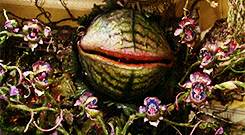 Every year, millions of beautiful roses are viciously murdered and given to undeserving significant others around the world. Why? Because it's "tradition." In Little Shop of Horrors, it's the plant that does the murdering, paying it forward for all of its dearly departed friends. Sure, you could say this 1986 remake is sort of a love story, but it's a love story where one of the lovers is actually eaten by the plant that brought them together in the first place. It's a cold-blooded movie about cold-blooded murder and is perfect for anyone who thinks plants are predictable. It also features Steve Martin singing about being a drugged up dentist, so there's that.
CHOCOLATES – Cocoon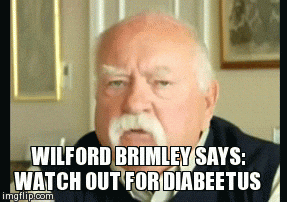 Ah, chocolate – the culinary symbol of Valentine's Day. The only problem? It causes crippling diabetes. And no one understands this better than the mustachioed, pony-riding acting legend known as Wilford Brimley. Brimley has been the spokesperson for diabetes since before time, and his endorsements for Liberty Medical are designed to "help you live a better life." There's no better way to celebrate Brimley and his contributions to helping those afflicted by this devil candy than by watching Cocoon, where he and bunch of elderly folks use alien beings to help stop the aging process. We promise you will never wanna eat chocolate again.
VALENTINES CARDS – Fahrenheit 451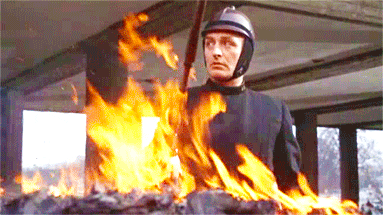 Fahrenheit 451 – the temperature at which books burn. You know what else would burn in this dystopian future? Valentines – those cheeky, cheesy cards that you either did or did not get when you were a kid, the ones that either made you smile or cry. How many trees have had to die so we can get that temporary satisfaction of thinking people care? In the nihilistic world of Fahrenheit 451, those cards would be outlawed and anyone caught violating the law would be executed. And that's really the way it should be, right? It's nice to spend some make-believe time in a world that greets the expression of love with a flamethrower.
CUPID'S ARROW – Braveheart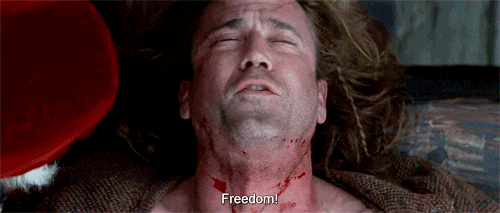 Another violent entry into the Valentine's Day canon is the mischievous little bastard who fires arrows into people to make them fall in love. Well – thousands of people are killed in the movie Braveheart by arrows, as Scotland fights bravely for its independence. They are fighting for love of country, something far more noble than love of another. For all his tricks, Cupid wouldn't last one second in a battle against William Wallace. Each time you see a man killed by an arrow, think about what Cupid really means to descendants of the arrow-riddled dead. Put that particular inherited trauma in your Valentine's Day pipe and smoke it.
DATE NIGHT – Leaving Las Vegas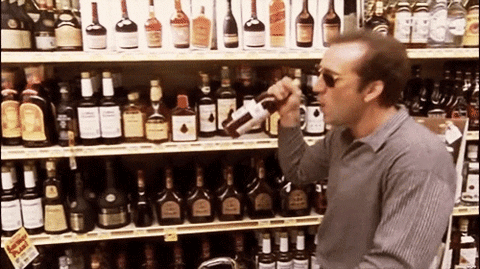 So you wanna cuddle up with your loved one for a special Valentine's Day date night? There's no better film than the Nicolas Cage-starring Leaving Las Vegas, a film about a man who goes to Vegas to drink himself to death. It's basically Citizen Kane for all the lonely folks out there who hate romance, and it's a nice reminder that Nicolas Cage is a pretty amazing actor when he sets his mind to it. After watching it, you'll certainly break up with whomever you're with and avoid the horror of yet another Valentine's Day next year. And then you can tell your friends – "Nicolas Cage ended my relationship."