10 Years of Movie Magic: Our Founder's Journey from Big Top to Rooftop
My mouth felt parched, lips dry and tense. Fingers moving in circles causing a sweat on both palms. I'm a performer, I thought. I should be used to facing a crowd. 
My days in the Circus had surely trained me for this moment. But wait – this was different. There was no red curtain about to open to the glare of a warm spotlight on my face or my eyes having to squint to push past the light and make out the shadows of the many faces staring directly at me and my juggling props.
This was a different kind of show. I had not been able to practice my performance. I was a trapeze artist without the net. I was a bareback horse rider on a wild stallion that may run off into the wrong sunset. There were no clowns to come rushing in to save my embarrassment if things didn't go to plan. This wasn't a Big Top. It was a Rooftop.
I took another deep breath. I waited 89 minutes. There had been some laughter and some gasps, but were people just being polite? And then the projector flickered once more as "Stand By Me" ended and the credits started to roll.
What would people think? Did they enjoy watching this classic movie outside, wrapped in a blanket in the cool English summer. What about the outdoor chairs they had sat on or the headphones they had used for sound? Cinemas don't normally do that sort of thing. It was time to face the music. 
I looked up from my position at the box office, palms now hotter than lava, hoping to see some form of approval for the months of hard work I had put into creating my very first Rooftop Cinema performance. 
I thought to myself, "If this doesn't go well I can be Bruce Willis (with a curly wig) in Die Hard and jump off the roof into oblivion. All I need now is an old piece of fire hose to wrap around my waist."
Wait a minute, where were the explosions? No chaos. No bad guys wanting to ruin my day. I was snapped out of my daydream by the thundering of hands clapping in unison, the whites of peoples teeth shining as they applauded the end of the screening. 
"I absolutely loved it," said one joyful customer. "These headphones are amazing, what a great idea," I heard. "It was like seeing my favorite movie for the first time," commented another couple as they wandered into the brisk London night.
My fears quickly subsided. The joyous faces warmed my heart. Everyone loved it. It may have only been a small show at that point, but in my eyes it was the smallest Greatest Show on Earth.
That was June 1, 2011. The birth of Rooftop Cinema Club at Queen of Hoxton, London. Let's just say I have never looked back.
The crowds kept on coming. I did everything in my power to let people know about this wonderful way to watch movies in the open-air, surrounded by this unique urban environment of office buildings and residential towers. My days were filled with answering customer emails, my nights making sure that I gave customers the best movie experience they could have. They had parted with their hard-earned cash to come and watch a movie on a rooftop, I wanted to make sure I did my damn finest to give them a night to remember.
On the weekends, I slipped back into my carnie ways and would dress as a giant hot dog, handing out advertising flyers in the bustling streets of Brick Lane in London. If I was lucky, I would convince a friend to dress as a bag of popcorn and join me for a promotional song and dance in the name of outdoor cinema.
Year 2 was upon me like a flash, and I was knocking on doors to tell the world of the ultimate open-air film experience. Well the streets of London, but it felt like the world to me. Roll up, roll up. Ladies and gentlemen, boys and girls. 'Welcome to the greatest cinema in the world' I would daydream to myself. 'Come see the rooftop views, taste the delicious street food, marvel at our craft cocktails and wonder in amazement as you and your loved ones settle into one of our comfy deck chairs to watch your favorite movies on the big screen as the sun sets and the stars begin to sparkle.' I always wanted it to be more than just a movie. I wanted it to be magical.
And what I really wanted was to know if people were as excited as me about seeing their favorite movies on a big screen. When "Back to the Future" or "Top Gun" came out I was merely 6 years old. They passed me by in the cinema like an F-14 Tomcat. Now I had the chance to relive every second of these classics, outdoors with my friends, a beer in hand.
My hunch was right. This magical nostalgic evening really did connect with moviegoers. For "Dirty Dancing," people would turn up with watermelons and then dance in the aisles at the end. Yep, having the time of their lives. Ray Bans were plentiful when Goose and Maverick were in town. Mums and dads would bring their children to "ET" and gleefully tell me that they were born the year it was released and how they loved that they can now share this movie moment together. People would scream and shout when Prince strutted his stuff in "Purple Rain," and most screenings ended with a beautiful big round of applause. Joyous appreciation for all the happy memories and that feeling like you've just seen your favorite movie again for the first time.
I was living my dream. I had combined my love of film with my passion for live entertainment and decided at that moment that the sky was the limit.
The door knocking had begun to prove fruitful. Year 2's season started with a beautiful and elegant new venue at The Roof Gardens, part of Sir Richard Branson's portfolio of unique retreats. If you were lucky, one of their flamingos would wander into our cinema space during a screening. Now that was fun and always great for a selfie! We also secured an amazing headline sponsorship with American Express. People were really starting to take notice of what we were doing.
Like all great adventures, things were beginning to twist and turn, and I needed a partner in crime to help navigate this exciting new chapter. A long weekend with my old school friend Nick turned into great conversations about where we could take this unique brand of cinema and, ultimately, him quitting his job as a banker for Merrill Lynch to join me on this cinematic journey. The clown and the banker had joined forces. Now it was time to really have some fun.
Lots of hard work ensued to make sure we established ourselves as London's leading open-air cinema operator. In addition, we kept dreaming of more ways to entertain our amazing film lovers with winter underground cinemas under the train platforms of the famous Waterloo Station, screenings onto the National Theatre and also London's first commercial drive-in cinema. We were having fun, but with the English summer only providing us with 5 months of average weather at best, we decided it was time to dream even bigger.
It was 2015, and two months before we had opened the doors of our very first U.S. Rooftop Cinema at Yotel, just up from Times Square, we had already sold out. We were over the moon and knew it was time to head to the home of film. By August of the same year we opened our first Hollywood venue on the rooftop of a theatre on Vine St, right on the Walk of Fame. We could not believe it. Nick and I took pride in laying the turf, painting the box office and putting every single finishing touch to our very first venue in the city of movie magic.
The next couple of years saw the arrival of new venues at LEVEL in Downtown Los Angeles, the Manchester Grand Hyatt in San Diego, a brand-new Hollywood venue at NeueHouse screening directly onto the historic CBS building. At the end of 2017 we opened in Houston, marking Rooftop Cinema Club's fourth U.S. city in our international expansion. In 2020 when the world shut down, we brought our drive-in experience back to provide relief during a difficult year in several cities including Los Angeles, Houston, Dallas, San Antonio, Tampa and London.
Going into our 10th season, we are thrilled about the opportunity to quadruple our presence in the U.S. with 20 new Rooftop venues and many exciting cinematic events including Drive-Ins and open-air screenings projected over the coming 3 years.
So what next? Well, after this last year, who can answer that question, really!? What I do know is that I was born to entertain people and take the greatest joy in seeing people smile and having a good time. Even before the pandemic, I was convinced of the healing powers of film and how it offers the ultimate escapism for people. Now more than ever we need it. So I can tell you this – we will keep entertaining you, we will dedicate ourselves to making the best experiences we possibly can and, ultimately, make sure that every time you visit one of our venues, we will create many magical movie moments for you and your loved ones.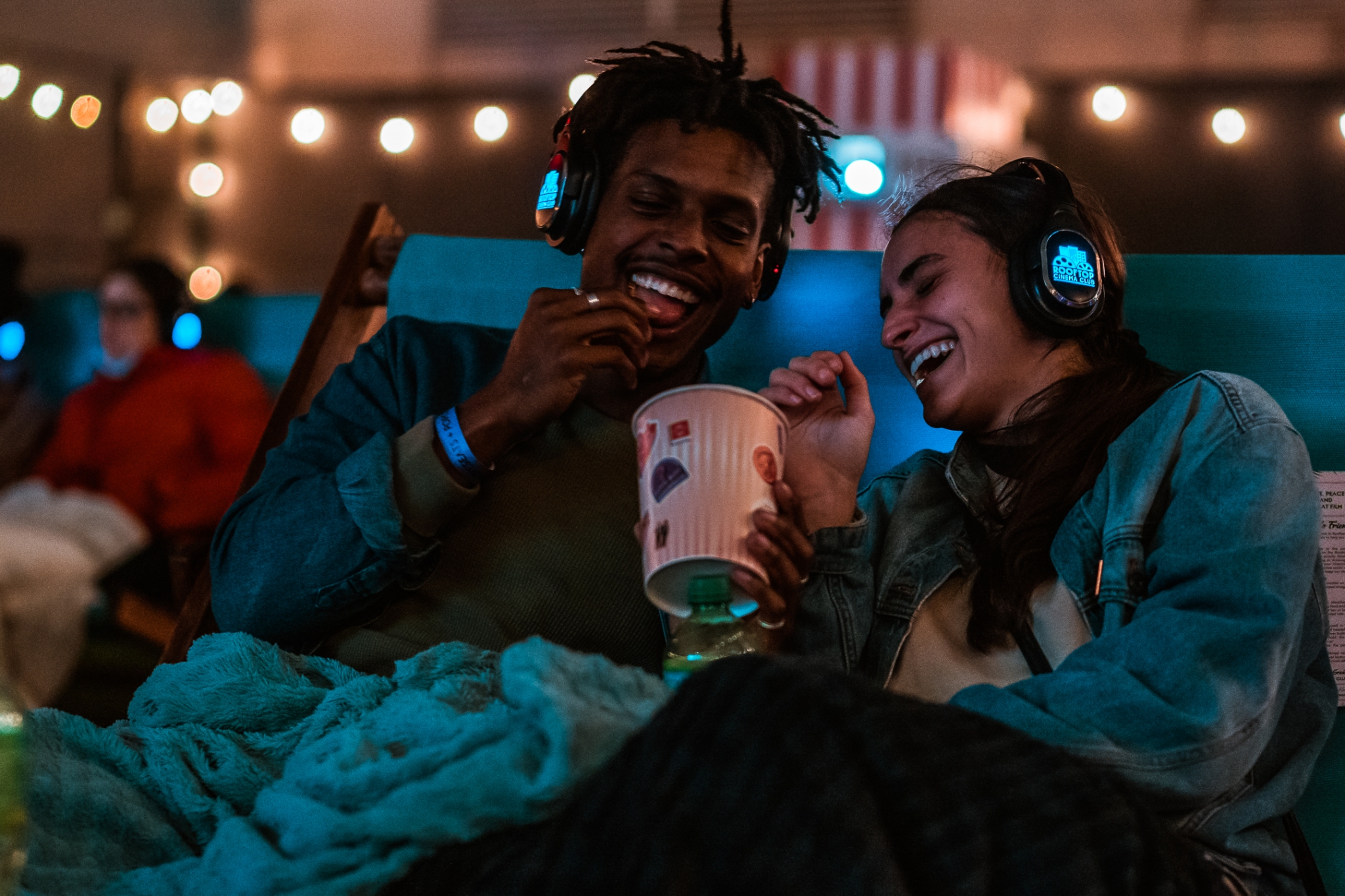 Thank you to all that have joined us over the past decade. Here's to Love, Peace and Great Film for many more years to come.
Gerry x
"At the end of the day, cinema is an art form being, at the same time, a circus, a voyage to our souls, a mirage, and an illusion of life itself." — Federico Fellini