Rise & Shine, It's Rooftop Time! The Top Movies in Los Angeles in August
Summer's coming to an end, but we're not going anywhere! We're thrilled to announce that we've got another month of movies for your viewing pleasure in August. In no particular order, we're sharing some of our top picks screening on our rooftop this month!  
Straight Outta Compton (2015)
Why You Should Watch It: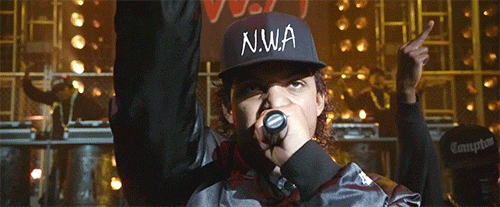 Because we're heading straight outta Compton and onto our rooftop! Filmed locally in Compton and Los Angeles, Straight Outta Compton follows the true story of how the infamous west-coast gangsta rap group came to be.

PS: As if you needed another reason to join us, the innovative, groundbreaking debut album from NWA (which inspired the film's title) turns 30 this year!
Be our hypeman on August 15th.
Best Quote:
"Speak a little truth and people lose they mind." – Ice Cube  
Space Jam (1996)
Why You Should Watch It:
Because you're ready to come on and slam! There's a lot of talk lately about who basketball's G.O.A.T. is lately and spoiler alert, it's not Lebron (no offense, we love you, King James). The ACTUAL greatest of all time basketball player actually stars in this film, and she's got game. Come join us on our rooftop as we stare in awe of Lola Bunny's (and the rest of the Toon Squad's) sweet moves. But seriously, where is Lola's sneaker endorsement?
Do your dance at the Space Jam on August 1.
Best Quote:
"Thanks guys, you got a lot of… a lot of… well, whatever it is, you got a lot of it.!" –  Michael Jordan  
Eternal Sunshine of the Spotless Mind (2004)
Why You Should Watch It:
Because we've all done some crazy things in an attempt to forget our exes, but we haven't tried wiping all of our memories of them quite yet. We mean, we have but with too many glasses of wine. Not quite the same concept as Eternal Sunshine of the Spotless Mind. Anyway, catch Jim Carrey (yeah, we couldn't believe Mr. Ace Ventura himself could make us cry either) deliver an astounding performance in one of the best romance movies of all time.
Meet us in Montauk on August 21st.
Best Quote:
"Constantly talking isn't necessarily communicating." – Joel Barish
Donnie Darko (2001)
Why You Should Watch It:
Because you've probably seen Donnie Darko a thousand times and you still don't get it. You're not alone, we've spent countless late nights reading everyone's fan theories and we're still scratching our heads. One thing we still don't get is why you're wearing that stupid man suit?
Decide the fate of the world on August 10th.
Best Quote:
"Some people are just born with tragedy in their blood." – Gretchen
Crossroads (2002)
Why You Should Watch It:
Because Britney Spears Drives Us Crazy! From the Bottom of our Broken Hearts, we're Lucky to say that we're screening Crossroads, starring Brit Brit in her first starring role. Join us as we watch Britney, Zoe Saldana, and Taryn Manning realize that They're Not Girls, but Not Yet Women. We promise to stop making all these Toxic Britney jokes. Oops…We Did it Again!
Bury a wish box on August 10th.
Best Quote:
"This time, we didn't make any wishes for the future. We said goodbye to our past. Now, none of us has any idea where life's gonna take us, 'cause what we have is now. And right now, we have each other." – Lucy Wagner
Risky Business (1983)
Why You Should Watch It:
Because sometimes you just gotta say 'what the heck'! Join us for one of the ultimate 80's teen movies that may have, or may not have inspired you to take your pants off and slide around in your socks the last time you were home alone.
Throw a house party on August 24th.
Best Quote:
"I don't believe this! I've got a trig midterm tomorrow, and I'm being chased by Guido the killer pimp." – Miles
School Daze (1988)
Why You Should Watch It:
Because summer's coming to an end and it's almost time to head back to school! Based off of director, writer, and producer, Spike Lee's experience at while a student at Morehouse College in Atlanta, School Daze is deeper than your typical college flick (no toga parties in this one, sorry!) but still definitely worth a watch.
Pledge a fraternity on August 29th.
Best Quote:
"Wake up!" – Dap