Programmer's Picks: September in San Diego
CONFESSION: I didn't program any of these films. They were before my time. You won't start seeing the "Billy Ray Schedules" until October 9th. That said, I approve of each and every one of the films on our fabulous San Diego schedule. It does a great job of representing so many different types of films, and appealing to as many different audiences as possible. And that's sort of the whole deal, right? If you guys aren't happy – we ain't either! These are what I am calling PROGRAMMER'S PICKS, and you can take them or leave them. Just know a lot of love and energy went into choosing these films, and it's my hope that there's something for everyone on our schedule. Maybe one of THESE five films is YOUR favorite!
Cocktail (1988)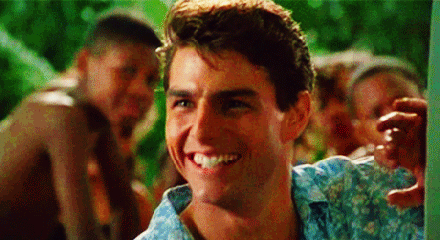 Director: Roger Donaldson
Cast: Tom Cruise, Bryan Brown, Elisabeth Shue, and Kelly Lynch
Who knew the high stakes world of professional bartending could be so…stirring? Tom Cruise is in full Tom Cruise mode as young Brian Flanagan, NYC's top bartender who takes a job in Jamaica, and trains under the wise and mysterious ways of Doug Coughlin, also known as the alcoholic Mr. Miyagi. If a greater film has ever been made about the awesomeness of alcohol, I haven't seen it. Featuring a quintessential 1980's soundtrack, high tropical fashion, and more colorful drinks than an Applebee's happy hour. If you can sit through COCKTAIL and not immediately want a strawberry daiquiri, then you're a better person than I am.
Favorite Quote: "Coughlin's Law: anything else is always something better." – Doug
Catch Cocktail on September 22nd.
Weird Science (1985)
Director: John Hughes
Cast: Anthony Michael Hall, Kelly LeBrock, Ilan Mitchell-Smith, and Bill Paxton
Leave it to John Hughes to write and direct a film about every horny teenage boy's fantasy. WEIRD SCIENCE objectifies women, but in the sweetest way possible. It's harmless, wacky fun that still manages to slide in some subtle truths about growing up. Kelly LeBrock lights up the screen as Lisa, the feminine creation who ends up giving dorks Gary and Wyatt more than they bargained for – and then some. And who can get enough of the late great Bill Paxton, scenery-chewing like no other as Wyatt's older brother, Chet. If ever a supporting character deserved his own spin-off, it'd be Chet. Teenage angst never looked so flashy.
Favorite Quote: "If he pukes, you die." – Chet
Catch Weird Science on September 21st!
Thelma and Louise (1991)
Director: Ridley Scott
Cast: Susan Sarandon, Geena Davis, Harvey Keitel, and Brad Pitt
I was nine-years-old when THELMA AND LOUISE hit theatres and I can still vividly remember just what a cultural phenomenon it was. Now, 27-years-later, it still packs a punch, maybe more so than when it was released. And what better film for these #MeToo times than a film about two tough as nails women who decide enough is enough, and take their destiny into their own hands. This is a film about taking your power back, living life to the fullest and making no apologies for who you are or what you do. And, for me, it's also a movie about a shirtless Brad Pitt in a cowboy hat making a cinematic debut unlike any in movie history.
Favorite Quote: "I don't remember ever feeling this awake." – Thelma
Catch Thelma & Louise on September 12th!
Deadpool 2 (2018)
Director: David Leitch
Cast: Ryan Reynolds, Josh Brolin, T.J. Miller, and Morena Baccarin
A film doesn't have to be old to be a classic. Case in point: DEADPOOL 2. It's a sequel. To a comic book movie. An R-rated comic book movie. And it's even better than the original. But don't let the raunch and the over-the-top action fool you – just like the first film, there's a heart buried underneath that sneaks up on you when you least expect it. Ryan Reynolds is in top form in the role of his lifetime; Josh Brolin is gruff and stuff as Cable; and the entire ensemble here help propel DEADPOOL 2 to becoming something greater than even it though it could be. I mean – at the end of the day – it's just a damned entertaining motion picture!
Favorite Quote: "You're so dark. Are you sure you're not from the DC Universe?" – Deadpool
Catch Deadpool 2 on September 13th!
Indiana Jones and the Temple of Doom (1984)
Director: Steven Spielberg
Cast: Harrison Ford, Kate Capshaw, Jonathan Ke Quan, and Amrish Puri
One man's least favorite Indiana Jones movie is another man's favorite Indiana Jones movie. And such is the life of INDIANA JONES AND THE TEMPLE OF DOOM, the former bastard stepchild of the Indiana Jones franchise (until KINGDOM OF THE CRYSTAL SKULL came onto the scene). I think it took the dreadfulness of the most recent entry to remind people of just how insanely fun this 1984 Steven Spielberg picture is. Indiana Jones has never been more suave and adventuresome than he is here, matched step-by-step by the annoying charismatic Kate Capshaw as Willie, and the annoying adorable Short Round, played by THE GOONIES favorite, Jonathan Ke Quan. Stop pretend. You know you love it too!
Favorite Quote: "Soon, Kali Ma will rule the world!" – Mola Ram
Catch Indiana Jones and the Temple of Room on September 29th.