Programmer's Picks: October in Houston
Howdy, Houston! Billy Ray here, the programmer for Rooftop Cinema Club, and the gent who chose all those delightful films you'll be visiting our rooftop to see very soon. Houston has a special place in my heart, being from the South myself, and considering its the first city to fall under my programming treatment. So I wanted to take the time to single out some titles – five to be exact – that I feel deserve your attention and your hard-earned dollar bills. These are what I am calling PROGRAMMER'S PICKS, and you can take them or leave them. Just know a lot of love and energy went into choosing these films, and it's my hope that there's something for everyone on this schedule. Maybe one of THESE five films is YOUR favorite!
DOUBLE DOLLY
The Best Little Whorehouse in Texas (1982)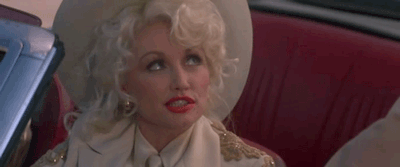 Director: Colin Higgins
Cast: Dolly Parton, Burt Reynolds, Dom DeLuise, Charles Durning, Jim Nabors, Lois Nettleton, Barry Corbin, and Mary Louise Wilson
This forgotten musical gem from the 1980's just screams, "Texas!" I mean – it has 'Texas' in the damned title. Based on the popular Broadway musical, the film stars Dolly Parton, the grand country dame herself, as the proprietor of a place called 'The Chicken Ranch', a house of ill-repute where lonely gentlemen can come to get their kicks for a reasonable fee – money or poultry. Burt Reynolds co-stars as the local sheriff who also happens to be cookin' up a relationship with Parton's Miss Mona, and Dom DeLuise co-stars as the evangelical host of a radio program that looks to root out sin in the Lonestar State. Simply put: this movie is a stone cold gas. Featuring songs like "20 Fans" and "Hard Candy Christmas", THE BEST LITTLE WHOREHOUSE IN TEXAS is a classic piece of Southern decadence that deserves to be discovered by a whole new generation of movie fans. You'll watch it, you'll love it, you'll tell your friends, they'll tell their friends. It's a Whorehouse Revolution!
Favorite Quote: "It's just a little bitty pissant country place, ain't nothing much to see." – Miss Mona
Catch The Best Little Whorehouse in Texas on October 18th!
Steel Magnolias (1989)
Director: Herbert Ross
Cast: Sally Field, Julia Roberts, Dolly Parton, Shirley MacLaine, Darryl Hannah, Olympia Dukakis, Tom Skerritt, Dylan McDermott, and Sam Shepard
You know the characters. You know the words by heart. If a greater ensemble of actresses has ever been assembled, we'd sure like to see it. This is a murderer's row of talent: Sally Field, Julia Roberts, Dolly Parton, Olympia Dukakis, Darryl Hannah, and Shirley MacLaine. It's a classic story of food, fights, and friendship, all revolving around a Louisiana beauty parlor and the lives of a group of Southern ladies who can't help but be entertaining. I grew up on this film in Alabama and am excited to start bringing in to rooftops all over this country. First stop? Houston, Texas. If anyone can appreciate this film, it's you all. Maybe you remember the bleeding armadillo wedding cake? Maybe you remember the breakdown in the cemetery? Maybe you just want Shelby to DRINK HER DAMNED JUICE! Whatever your favorite STEEL MAGNOLIAS moment might be, bring your friends and family and share it with them. This is a film best seen with the ones you love. Feel free to shout at the screen!
Favorite Quote: "I'm not crazy, I've just been in a very bad mood for 40-years." – Ouiser Boudreaux
Catch Steel Magnolias (1989) on October 17th!
SPACED OUT
2001: A Space Odyssey (1968) – 50th Anniversary
Director: Stanley Kubrick
Cast: Keir Dullea, Gary Lockwood, William Sylvester, and Douglas Rain
If you've never seen Stanley Kubrick's 1968 masterpiece on the big screen, you're doing yourself a grand disservice. We happen to think the optimum way to experience it is on our enormous rooftop screen with nothing but the stars above you. This is a complicated film about the evolution of mankind, but it's also just a marvelous experience for the senses, and we take that responsibility quite seriously. And – guess what? There's a reason at least one person you know considers this the greatest film ever made. So, we're celebrating the 50th birthday of this seminal piece of cinematic entertainment by giving you a chance to see it in a way you never have before – surrounded by equally curious strangers all searching for that same catharsis only 2001: A Space Odyssey can provide. And did we mention it's on a rooftop? We can't say that it's the way Stanley Kubrick would prefer his film to be seen, and he's dead, so we can't ask him. But we can't imagine he'd oppose it.
Favorite Quote: "Yes, I'd like to hear it, HAL. Sing it for me." – Dave
Catch 2001: A Space Odyssey on October 27th!
Galaxy Quest (1999)
Director: Dean Parisot
Cast: Tim Allen, Sigourney Weaver, Alan Rickman, Tony Shalhoub, Sam Rockwell, Missi Pyle, Justin Long, Daryl Mitchell, and Enrico Colantoni
Calling all geeks! Here is a film that has slowly become one of the most celebrated comedies of the 1990's, the inventive and riotously hysterical, GALAXY QUEST. When it was released during the 1999 Christmas season, it was swallowed up by higher-profile titles and didn't really find its footing until it hit DVD. The plot is simple – the cast of the popular series, Galaxy Quest, find themselves playing out one of their episodes in real life when an alien race beams them aboard their spaceship. Confusing their television characters with real heroes, the aliens need their help in defeating a sinister space villain but are shocked to learn that these real actors have little in the way of actual heroism. It's THREE AMIGOS! in space, with an incredible cast and sharply wound script by David Howard and Robert Gordon. GALAXY QUEST has so much more in store for you than meets the eye, and I always revel in exposing people to this somewhat forgotten classic. I've yet to meet one person who watched GALAXY QUEST and didn't have a new favorite sci-fi comedy.
Favorite Quote: "By Grabthar's hammer, by the suns of Worvan, you shall be avenged!" – Dr. Lazarus
Catch Galaxy Quest on October 26th!
I'M YOUR HUCKLEBERRY
Tombstone (1993) – 25th Anniversary
Director: George P. Cosmatos
Cast: Kurt Russell, Val Kilmer, Sam Elliott, Bill Paxton, Powers Boothe, Michael Biehn, Charlton Heston, Jason Priestley, Dana Delany, and Thomas Haden Church
Very few films can go through this many problems during shooting and still manage to come out so damned entertaining. This is one of those cases when the success of the film rests almost solely on the shoulders of its incredible cast. TOMBSTONE – A film so amazing that theatres forget to play it anymore. Well – not us. These are the classics you grew up on and want to see on the big screen. Most everyone has either seen TOMBSTONE or seen scenes from it. It's probably your dad's favorite movie. Whether it's Val Kilmer chewing each scene like a dog chewing a bone, or Kurt Russell raising Holy Hell on every gunslinger he can, TOMBSTONE is bare-knuckle cinematic bombast at its best. It's a Western, but it's a higher octane Western than you've seen before. It's a love story, but it's a love story both between a man and a woman, a man and his brothers, and a man and justice. If you're looking for a high energy, straight up fun night at the movies, look no further than TOMBSTONE. And if you know the words by heart – don't be ashamed – SO DO WE!
Favorite Quote: "You're a daisy if you do." – Doc Holliday
Catch Tombstone on October 23rd!