Our Pick of the Pups from Film
Dogs; man's best friend and the best answer to the question, 'Do you think I should buy a cat?' Sure, the internet might have fallen head over paws for pussy (oh, grow up…) but films are where the pups are at…
Here's our favourite pick of the puppies from the big screen.
Lady and the Tramp
Who?
These two are like night and day, one's a spoiled cocker spaniel and one's a stray mutt. No prizes for correctly allocating their names… But when pampered pooch, Lady's owner finds herself with a screaming newborn, Lady gets pretty pissed off about the whole thing and ends up on the street. Gutted, mate. When she catches the eye of Tramp, they fancy the fur off each other and end up eating some pasta in an alleyway together, like many of our own first dates, coincidentally.
Likes?
Meatballs, a spaghetti snogging session and uninterrupted luxury.
Dislikes?
Babies.
Jack from The Artist
Who?
Loyal mate to George Valentin, a silent movie actor who refuses to accept that sound might make it big in Hollywood, Jack finds himself saving his owner's life after attracting the attention of a nearby policeman as George sets light to all his old movies like a firestarter, a twisted firestarter.
Likes?
Generally pleasing his owner, like all the best dogs do.
Dislikes?
George setting fire to shit.
Toto from The Wizard of Oz
Who?
Companion to Dorothy, the girl who finds herself somewhere over the rainbow clutching on to Toto for dear technicolour life, this pup trots along to whatever song ol' Dot is dancing to. He loses his shit a bit when the wicked witch comes along and ends up being threatened by her. Bit of a track record really 'cos back in Kansas, Miss Gulch wants his blood too. He sorts his life out though and saves Dorothy by escaping the clutches of the witch and raising the alarm that Dorothy's been kidnapped to their mates, Scarecrow, Tin Man and Lion. But then he makes Dorothy miss their hot air balloon ride home, FFS.
Likes?
Running away at the most inconvenient moments.
Dislikes?
Witches, old women and anyone who wants to put him down.
Bonus fact:
Toto, aka Terry, was paid 125 dollars a week whilst filming. That's more than most of the human actors on set. Awks.
Extra bonus fact:
Terry was temporarily replaced because a Winkie guard trod on his foot and broke it, the bastard
101 Dalmatians
Who?
Listen, ain't no way we're listing every single one of them, so we'll need to talk about them as a collective. Pongo and Perdita parent 15 spotty pups but when Cruella De Vil comes along and tries to make a coat out of them, they find themselves dognapped and about to become couture. Somehow they escape, end up finding another 74 dalmatians along the way and hopefully teach Ms De Vil that faux fur is far more acceptable these days.
Likes?
Moving around in packs, massive packs, packs of over a hundred.
Dislikes?
Crazy women who want to wear them.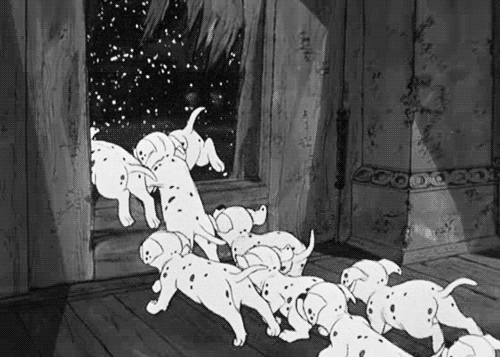 Slinky from Toy Story
Who?
Slinky is a toy dachshund who speaks in a pretty sexy gravelly Southern accent if we're being completely honest. This guy's got your back; he'll defend you for as long as he can and will literally throw his backside out of windows, cars and elevator shafts to help you out. We think we might be in love with him. Ahem.
Likes?
His best mates. Particularly Woody. Something might be going on there.
Dislikes?
Erm, probably telling everyone that you didn't try to actually murder an astronaut who was just trying to find his way home and then later finding out that you did.
Baxter from Anchorman
Who?
Baxter is the beloved pet of Ron Burgundy. The pair are so close that they have deep and meaningfuls on the reg. Sadly, Baxter was kicked into a river by an angry biker when Ron accidentally threw a burrito at him but he makes a pretty impressive comeback and ends up chatting to some grizzly bears and saving Ron and his girlfriend, Veronica, from being quite aggressively attacked.
Likes?
Scotch and matching pyjamas.
Dislikes?
Being kicked off of bridges into rivers. Which seems fair.
Marley from Marley & Me
Who?
We're gonna level with you here; sure, Marley's cute but he's an absolute nightmare. He's a disobedient train wreck who only becomes tolerable once he's really old and then he dies. Oh yeah, spoilers. So, look, he's only alright. Fine, he's quite adorable. And maybe we did cry when he died.
Likes?
Ignoring commands and smashing the shit out of everything.
Dislikes?
Dog trainers.